Hello dear friends. We all know that the world of jewelry, luxury and wealth not only shines and attracts, but also attracts troubles, evil and, of course, scandals.
Great wealth in turn (not always, but often) negatively affects people's behavior.
Let's look at a few cases where Forbes billionaires have been embroiled in serious scandals.
Thor Batista hits a cyclist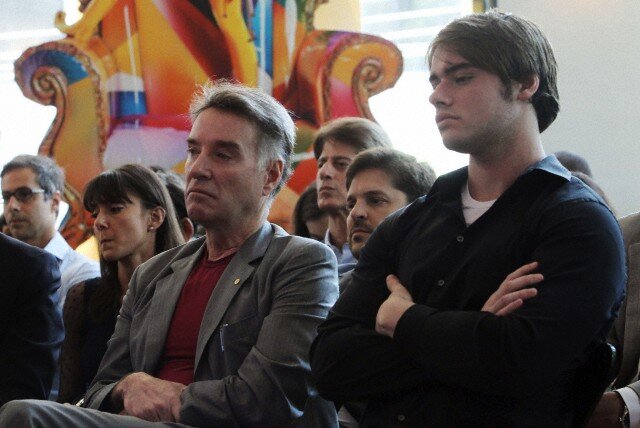 In March, Brazilian playboy Thor Batista, son of billionaire Aike Batista, hit a cyclist with his Mercedes-Benz SLR McLaren sports car in Rio de Janeiro. Wanderson Pereira dos Santos, 30, died at the scene. In May, a Brazilian court ruled that 21-year-old Thor would be tried for manslaughter.
The collapse of Stuart Rahr
November 2012 was not a very good month for pharmaceutical billionaire Stuart Rahr. He was first banned from the Nobu restaurant chain for life after he threatened to kill its manager in New York. The reason is that someone was sitting at his table. A few days after the police seized the two pistols from Rahr, things went very badly for him. In early December, Rahr announced a divorce from his wife, with whom he had been married for 43 years.
Family tragedy of the Rausing family
The strangest story with a billionaire is also the saddest. Hans Christian Rausing, the 49-year-old heir to the founder of Tetra Pak, was arrested in London on suspicion of drug possession. The police searched his luxurious five-story mansion and found the body of his wife, Eva. The couple struggled with drug addiction for many years. During the investigation, it turned out that Hans lived with the body of Eva for several weeks. It was later revealed that she died from a cocaine overdose.
The Unusual Luggage of Christophe Wiese
In June, South African billionaire Christoph Wiese took part in perhaps the most bizarre legal battle involving the billionaire of the year. He was trying to recover more than $1 million confiscated by customs officials who found it in his luggage. In 2009, the billionaire attempted to board a flight from England to Luxembourg with two checked-in suitcases and a carry-on bag containing a total of £674,920 or more than $1 million. The British judiciary did not believe Wiese's version that the money came from diamond deals in South Africa in the 1980s and 1990s and was kept in a safe deposit box at the Ritz due to foreign exchange restrictions in his homeland.
Donald Trump video miss
A few days before the US presidential election, Donald Trump posted a YouTube video in which he said he was making an offer to Barack Obama that he could not refuse. The billionaire gave the US President a week to show documents from his college and a check for a $5 million donation. Trump's move was described by the media as an attempt to gain attention.
Political views of the Koch brothers
America's richest brothers Charles and David Koch rarely leave the media, but the accusations in October 2012 were more serious than their usual covert campaigning. Shortly before the US presidential election, the political magazine In These Times published a voting packet sent to 45,000 employees of Koch Industries Georgia-Pacific. The materials contained a list of candidates supported by Koch. For Oregon employees, only Republicans are included in this list.
Drama by François-Henri Pinault
The family of French fashion magnate François-Henri Pinault has about $13 billion. His fortune is at the center of a lawsuit with his ex-girlfriend, Linda Evangelista, who alleges that the billionaire did not provide any support for their five-year-old son. Pino is currently married to actress Salma Hayek, with whom he has a daughter. In court, he argues that Evangelista may have deliberately gotten pregnant during their brief relationship. The two reached an out-of-court settlement.
Insider trading investigation against Steven Cohen
Citing unnamed sources, Reuters reported that authorities were investigating Steven Cohen's SAC Capital Advisors for «possible insider trading» in Weight Watchers International shares in early 2011.
Standard scandals with Silvio Berlusconi
The trial of Berlusconi for his relationship with an underage prostitute made a lot of noise. In October 2012, he was sentenced to 1 year in prison for tax fraud. However, after some time, he introduced his 27-year-old bride to the media. Belusconi is 85 years old and still in a relationship with a girl.
The Kwok brothers are accused of paying bribes
Billionaire brothers Thomas and Raymond Kokk, who run Hong Kong's largest construction company Sun Hung Kai Properties, have been arrested as part of a corruption investigation. The brothers' fortune is estimated at 18.3 billion dollars.
It is noteworthy that their third, older brother Walter could report the businessmen to the police. At one time, he was removed from the management of the business empire due to a nervous breakdown. Walter, who fell in love with a simple girl, was forced to marry another, more important for the family. A difficult marriage broke up, and Walter was kidnapped by the Chinese mafia and kept in a wooden box for a week. Then he was bought out, but his health was greatly shaken.
Here it is, the world of big money and greedy people. Do you remember any high-profile scandals with the rich?